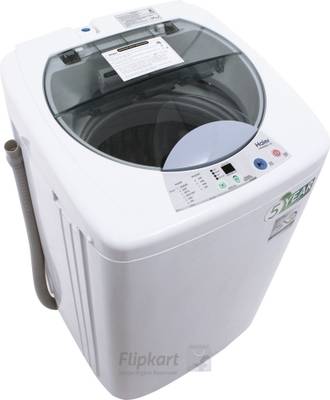 Rs.11799/-
Rs.15990/-
26% Off
Click here to buy
Fully Automatic Top Load
Power : 325 W
Capacity: 6 kg | Max Spin Speed: 1000 rpm
Stainless Steel | Normal
Digital Display Supported | 6 Wash Programs
Lint Filter Supported
We highly recommend that you get the product installed by the brand/Flipkart authorized service engineers to prevent the warranty from getting void. To avoid any physical damage to the product while unboxing, please ensure that only an authorised person opens the packaging and installs it.
With the Haier 6 kg washing machine at home, washing clothes will no longer be a daunting task. Equipped with 6 wash programs, this fully automatic washing machine with lint filter, gives you cleaner and fresher clothes easily.
This top loading, fully automatic washer has an anti-rust, plastic body so you can place the appliance in the bathroom, worry-free. Its plastic cabinet ensures enhanced durability so you spend less on its maintenance. It features a multi-segment LED display that keeps you updated with the wash cycle time and various washing stages.
Packed with nifty wash features, this Haier washer ensures thorough cleaning of clothes. It has 6 wash programs types to suit your washing requirements. If you're heading for a date and your best clothes are in the laundry basket, this washer is ideal for you. Thanks to its Quick Wash features, you can wash your clothes quickly.