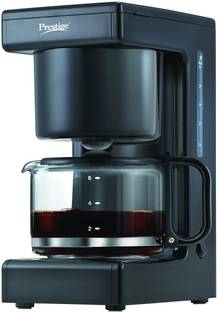 Good coffee makes everything better. If you're one of those people who needs a steaming mug of coffee the first thing in the morning, then get this electrical drip coffee maker from Prestige.
This coffee maker features a water-level indicator, so you can easily monitor the level of remaining water while preparing your favourite brew.
The carafe of this coffee maker is crafted from glass, so you can keep a track of the coffee left in it. It also features a handle, ensuring safe and easy handling.
1 Year Manufacturer warranty, Cash on delivery available with 10 days replacement policy.