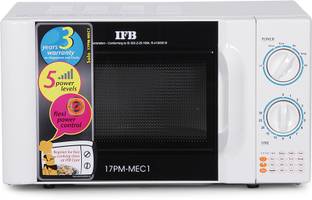 Price: Rs.4,299/-
Looking for a microwave oven for reheating and defrosting purposes? The IFB solo microwave oven is designed with features such as Multi-Power Levels and Speed Defrost that make all your cooking processes easy. The 17L capacity makes this an ideal investment for bachelors and small families.
5 ★ Read this review by one user:-
More than Expected.
I think its the Finest kind of solo microwave. Cost is low, easy/simple operation and efficient performance.Good enough for a small family of 2 adults 2 children. I use it for long time cooking & also reheating almost daily U can even cook rice for the family in 10-12 minutes. power consumed is minimum.It saves ur gas consumption also.Great look/finish as well as sturdy. The microwave friendly idly maker which came free with it is extremely useful.U can blindly trust me and go ahead with this purchase since its from 2 trusted giants: IFB & FLIPKART. Happy buying.