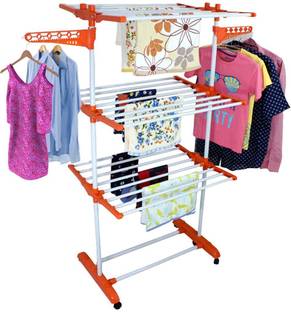 Price: Rs.1,799/- 60% Off on original price of Rs.4,500/-
Hight lights at a glance:
Floor Cloth Dryer Stand
Made of Stainless Steel, Plastic
Maximum Load: 20 kg
Color: Orange, White
Drying Length: 58 ft
Now a days this product is very essential where people suffering to get dry wet clothes due to lack of place in the present concrete jungles. Buy this product online by placing order on Flipkart and get it to your door step.
Description:
Favour cloth drying stand is made with an innovative design to help you to dry up maximum clothes. Drying stand is made up of Mild Steel coated rods and ABS & PP Plastic. 2 hooks available for hanging hangers & special space for small clothes. Since it is foldable you can store this cloth drying stand anywhere. Sturdy and lightweight Easy to arrange, store and handle Material: ABS & PP (Plastic) material with Mild Steel Rods 1 Step Angle Adjustment height all length - types of laundry can be dried altogether Extra 12 Hanger Slots Double-Sided adjustable 6 wings to hang garments Thick base bar for better stability Designed for better ventilation by expanding the distance of each cloth Laundry load bearing up to 20 Kg Fully adjustable shelf height which enables it to use the vertical space in a balcony or a room rather than expand the drying space horizontally. Foldable Hanging frames Different Combinations. Example - Fold The middle frame if you need to Dry a Bedsheet on the top frame as it requires more space for hanging. 6 Hanging Frames (3 on each side of the Rack). 3 Rails on each frame for Drying lots of clothes at once. 2 Plastic Attachments with holes. Use them to hang clothes hangers with shirts, trousers etc. Wheels at the bottom for moving the rack conveniently. Folds Down for Easy Storage.